March 16, 2016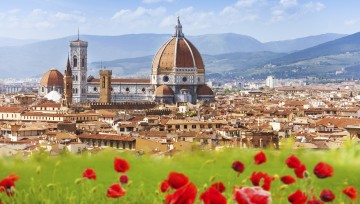 Easter is one of the most important religious holidays in Italy. It's mostly spent with family although it's also common to organise a trip to the countryside and rent a farmhouse or ranch with friends as a kind of early spring break celebration. In Italian we say "Natale con i tuoi, Pasqua con chi vuoi" [Christmas with your family, Easter with whoever you want!] which is why it's usual to spend Easter Sunday at home with family and Easter Monday – "Pasquetta" or "Lunedì dell'Angelo" [Little Easter or Angel's Monday], out and about with your friends having picnics or barbecues, relaxing in parks and enjoying the fresh spring sunshine, playing football or badminton or going to a B&B in the countryside to indulge in some traditional Italian spring-time meals!
Playing Easter egg games is another of our big traditions in Italy. Nowadays, kids go crazy for surprises in hollow chocolate eggs, but when I was young there was an annual egg fight where we used to decorate boiled eggs and smash them against our opponent's egg hoping that theirs would crack first. It's still such a big tradition in some Italian cities that they even organise competitions in the local squares. There are egg and spoon races, too.
Food plays a hugely important role at Easter in Italy (and in many Mediterranean countries) with many dishes having religious connotations. On our tables you'll find huge chocolate eggs, "Colomba", a dove shaped sweet bread and "agnello" (lamb) with roasted potatoes. In Rome, my city, we love to have "Abbacchio allo scottadito" meaning roasted lamb that burns your fingers. And here is the magic recipe taken from the Dellalo website, if you'd like to have a try:
Ingredients:
• 8 to 12 lamb chops
• 3 fresh bay leaves, finely ground
• 3 sage leaves
• 1 sprig fresh rosemary
• A few juniper berries
• DeLallo Natural Coarse Sea Salt
• Black peppercorns
• 1/2 glass dry white wine
• 6 tablespoons DeLallo Extra Virgin Olive Oil
• 2 lemons, cut into wedges
Method:
Layer the lamb chops in a large container.
With a mortar, a knife or an electric grinder, finely grind all of the herbs and spices—including the salt and pepper. (If you use a knife, use the flat side to first crush the juniper berries, peppercorns and salt.) Place them in a bowl then mix with the wine and the olive oil, stirring with a fork. Pour this marinade into the container with the layered lamb chops. Marinate overnight.
Ideally, lamb chops are best grilled on an open coal fire or barbecue, but you can also cook them on the stove in a cast-iron grill or a heavy pan. They will be ready very quickly—lamb chops (unlike pork chops) can be served rare or medium-rare, according to your preference. Serve with a couple of lemon wedges.
Enjoy them piping hot… and before your friends steal them from your plate! Yum!
Irene Capanna, Translation Coordinator, Verboo